Hog Roast Wigan welcomes you to the north west's premier provider of delicious hog roast catering. If you're thinking of hosting your next event or celebration in Wigan – or within the Greater Manchester area – we've got the professional expertise and purpose designed hog roast machines to help you to deliver the the perfect hog roast experience.
We love to answer your questions …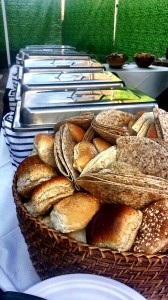 We understand that you may have many questions before committing to a package of indoor or outdoor hog roast catering. Do we supply the tables? The chairs? The plates and cutlery? What about serving tables and gazebos? You could also be wondering about cooking the meat yourself, or cleaning the machine afterwards. The important thing to remember is that this isn't our first time. Hog Roast Wigan specialise in nothing but providing you with your ideal hog roast experience. That means we will always go the extra mile in providing a standout experience both for you and your guests. Speak to us today about any menu preferences or setup requirements that you may have. Our friendly staff members are here to deliver the hog roast experience of a lifetime.
Why We Chose To Host Hog Roast Wigan?
If you're undecided about the catering for your special day in the north west, let us give you a quick rundown of why Hog Roast Wigan is the perfect solution to your next event catering dilemma.
Hog Roast Wigan has so much to offer in terms of diverse menus, expert chefs and years of hog roasting experience. There isn't anything we don't know about hog roasting that's worth knowing! We are in the prime location to supply our catering services all across Wigan and the surrounding areas. For the last two decades we have built up the most recognised and renowned hog roast catering company in all of Wigan, and that's through hard word and determination. We set off aiming to be the best and that's where we are. At each event we reach the same high standards that we set ourselves to ensure that your event catering is above anything you could have possibly imagined. And that's how we retain our regular and repeat customers.
Maybe you are looking for something a little bit different to your usual party catering? Well Hog Roast Wigan guarantee's to bring the wow factor to any special occasion or event. Leave us in control of supplying your guests with a meal that they will remember, from a party that they will remember!
Hog Roasting Specialists
When mentioning Wigan, it's important to mention sports. Thousands of tourists travel to our region for corporate and private parties based around sporting events. So when you're thinking about watching the next big game, make sure you have the best hog roasting caterers at your side to make the day even more unforgettable! With decades of catering experience behind us, you can rely on Hog Roast Wigan to bring you the juiciest meat, the freshest salads and the most mouth-watering desserts.  So win or lose, you'll still be enjoying the food!