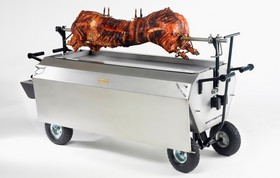 Hiring a hog roast machine could not be easier. If you'd prefer to chef the event yourself, simply give us a call, let our team know ahead of time and we will deliver the machine with a bottle of gas ready to go, direct to your venue, and we will provide you with an onsite tutorial.  Our equipment is designed so that even a beginner can get the very best results. The hog roast machine can be delivered with or without a fully prepared pig the choice is yours, take advantage of our carefully selected free range pigs or arrange your own pig locally. We will then collect the machine after the event either clean or dirty again the choice is yours, there is an extra cost for sending the machine back dirty. If you have several events planned over a longer period of time again no problem we can arrange for a hog roast machine hire for as long as you require it. Whatever your preferences, we will always go the extra mile to exceed your expectations.
Our hog roast and spit roast machines are very easy to use and come with an easy to follow set of instructions. So next time you feel like impressing your friends and family and playing master chef why not try hiring one of our tried and tested top of the range hog roast machines for the weekend.

Each of our machines is beautifully crafted from stainless steel. The robust design is suitable for both indoor and outdoor use, while the eye-catching highly polished finish to our machines forms part of the visual appeal of the overall hog roast dining experience.
Single Oven – 150 Servings – Capable of roasting up to 75 kilos of meat, these superb machines provide up to 150 servings. Ideal for small to medium sized parties and gatherings.
Double Oven – 300 Servings – These huge machines can handle two 70 kg pigs of meat, giving you up to 300 servings per roast. These popular machines are perfect for festivals and fetes.
The major benefit of our accessories is that you will be able to serve up extra portions of delicious food between hog roasts. Check out our accessories below: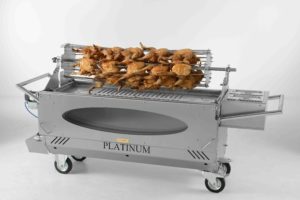 The BBQ Accessory
The Hog Roast Wigan BBQ accessory is a hugely popular piece of kit. Simply fit the accessory to the top of the hog roast machine for BBQ food options between roasts – serve burgers, hotdogs, and sausages throughout the day.
The Spit Accessory
The spit is a versatile accessory that allows you to slowly cook up to 36 large chickens. Alternatively, you could choose to cook sides of beef, pork legs, fish, and vegetables – we're happy to provide inspirational menu advice!